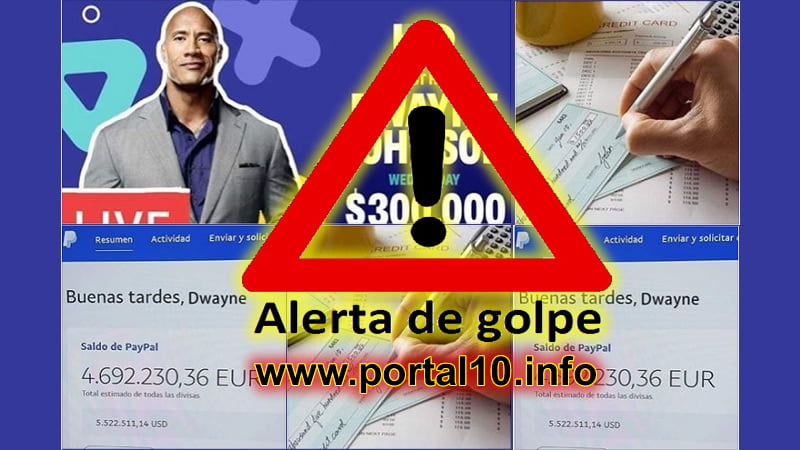 Lately, Facebook groups and pages are being invaded by thousands of fraudulent posts using the name of actor Dwayne Johnson (The Rock) promising or asking for money from users of social network.
But, who is Dwayne Johnson?
Dwayne Douglas Johnson, also known by his ring name The Rock, is an American actor, former professional wrestler and former college football player for the University of Miami. Best known for blockbuster films such as Jumanji, Fast & Furiosos, Teddy Bear, Moana – A Sea of ​​Adventures and many others, the actor is easily recognized in the photos and videos posted by pages that try to impersonate him to carry out frauds and scams.
The messages that are being shared by thousands of users now have some variations in the texts, photos and videos, but for the most part the intention is to deceive fans and try to get some kind of advantage by impersonating Dwayne.
See some of the fraudulent text below:
Hello everyone!!!..I will pick 500 lucky people on facebook..
This is not a scam. Choose the first letter of your name and you will receive it according to your name. Do it with faith.,, SHARE THIS PUBLICATION IN 5 GROUPS NOW. Share more chances to win. YOUR MONEY WILL BE SENT 2 minutes, don't ignore it, this could be your opportunity.,, your time starts now. Good luck and God bless you!..
Another version of the text is as follows:
Congratulations, you will be selected to win. Surprise in the next hour, unexpected financial assistance will be given to 800 people. I will randomly pick people on facebook, everyone who " SHARE " will receive a cash gift card, "Share now"! each one just follows instructions..
STEP 1: Like.
STEP 2: Comment Amen
STEP 3: Share in your 10 groups
This scam is not new, as in September 2018 the actor already warned his fans about the scam in a video posted by him on his official instagram account.
In the alert video, the actor apologizes for what happened and asks people to be careful. "Be smart, be careful and don't do what they say."
See the video where the actor warns about these frauds:
If you're a fan, know that his official instagram is @therock.
Don't let this kind of fraud spread on social media, because the next victim could be you!